Bike Spokes and Shoe Boxes – Cryptozoic Penny Dreadful Season 1
Penny Dreadful is a Showtime original series chronicling famous literary characters including Dr. Frankenstein, Dorian Gray and figures from the novel Dracula set in Victorian London.  The border-less card fronts are mostly horizontal in layout and feature a scene from the show.  The set name and and a phrase describing the scene are in a modest graphic at the bottom of the card fronts.  The card backs are the same in that they show a ghostly ethereal image with additional information about the scene depicted on the front.
Information from Cryptozoic
"A frightening psychological thriller by three-time Oscar® nominee John Logan and Oscar® winner Sam Mendes features some of literature's most famously terrifying characters—including Dr. Frankenstein and his creature, Dorian Gray and iconic figures from the novel Dracula—in Victorian London. The series weaves together these classic horror origin stories as the characters grapple with their monstrous alienation."
Key Features
Authentic Autograph cards from the main cast and guest stars
Wardrobe and Prop cards feature production-used items from the show
Critics' Choice Television Award for Most Exciting New Series
Most-watched 1st season ever on Showtime on Demand & Showtime Anytime
Per box items:
24 packs per box
5 cards per pack
randomly inserted autograph and wardrobe cards
What I pulled:
111 total cards
72 complete base set
complete 9 card Character Bio insert set
complete 9 card Etchings insert set
complete 9 card Quotable insert set
5 metallic parallels
1 Tarot card insert (1:32 packs)
1 autograph card (1:24 packs)
2 wardrobe cards (1:24 packs)
1 memorabilia card (1:72 packs)
Base cards:

Inserts and Parallels: (not all scanned)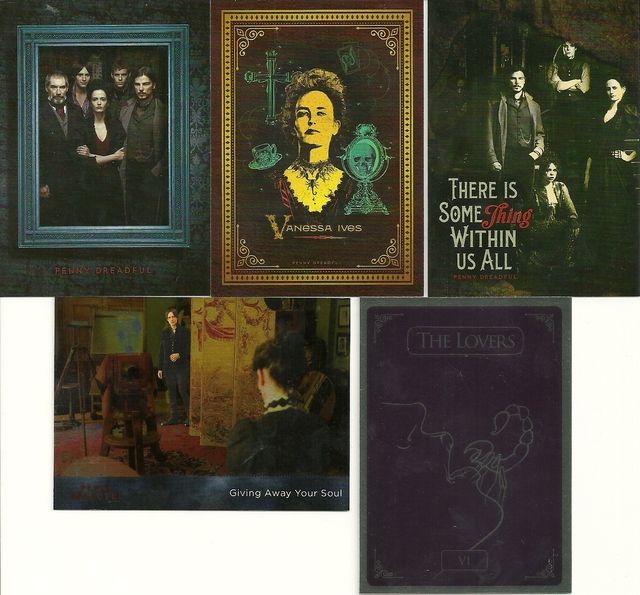 The Hits: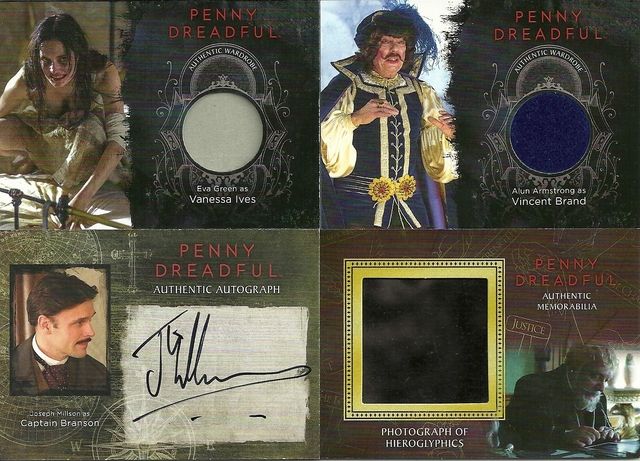 ********************************************************
I have read the novels of the characters in the Penny Dreadful series, but am other wise unfamiliar with the show itself.  Cryptozoic again get 5 stars for the perfect collation.  Pulling a complete base set and inserts sets from one box is always nice.  Where Cryptozoic killed it though was with the hits!  Doubeling up on wardrobe cards, pulling a tougher insert, and a 1/2 case hit memorabilia card pushed this over the top!  While not necessarily a knock against the card product, this is the first time in my my lifetime of card collecting that I have seen a trading card set with a recommended age of 18+.  The television series, as well as the card set contain images of Gothic horror which may be too intense for young viewers and collectors.
Thanks to Cryptozoic for making this review possible!