Bike Spokes and Shoe Boxes – Cryptozoic Arrow Season 2
Arrow season 2 follows the adventures of Oliver Queen AKA The Arrow in his self appointed mission to save his city.  The CW hosts Starling City and Team Arrow from the DC universe.  The cards cards are standard issue size and are mostly vertical with the occasional horizontal card fronts.  The set logo is centered prominently in the center of the card bottom.  The card fronts are border-less save for a graphic behind the logo.  The fronts also contain a phrase or a quote from the pictured scene.  The cards backs contain a smaller image from the same scene and a brief synopsis.
Information from Cryptozoic:
"After retreating to the island on which he was once stranded, Oliver Queen returns to Starling City to protect his mother, sister and besieged company. He comes to realize that allies and enemies have switched sides, and the stranglehold of evil on family, friends and city is diabolically linked to his fateful shipwreck. A once-tight comrade-at-arms and a strength-enhancing, yet mind-warping serum may prove to be the mightiest adversaries The Arrow has ever encountered."
Key Features
Base set features episodic images from the second season
Multiple chase sets with rare variants
Look for randomly inserted Autograph and Wardrobe cards!
Per Box Items:
24 packs per box
5 cards per pack
randomly inserted autograph and wardrobe relic cards
What I pulled:
120 total cards
72 card complete base set
complete 6 card Suicide Squad insert set
complete 3 card Archers insert set
complete 6 card Mirakuru inset set
6 Green Arrow foil parallel cards
3 Red Arrow foil parallel cards
1 serial numbered metallic parallel #/40
1 sticker (1:24 packs)
1 autograph (1:24 packs)
1 wardrobe relic (1:24 packs)
Base Card front and back: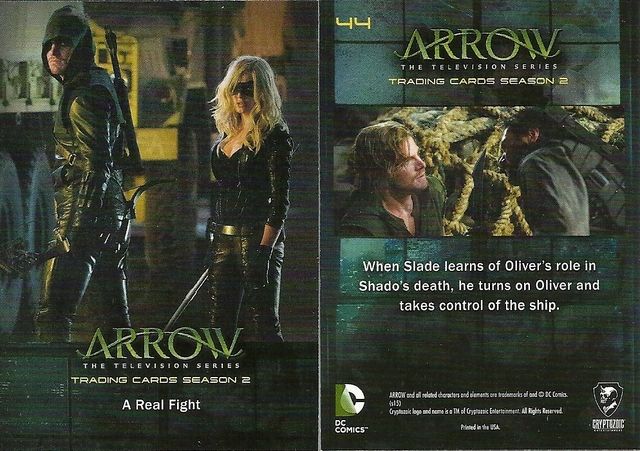 Inserts and Parallels: (not all scanned)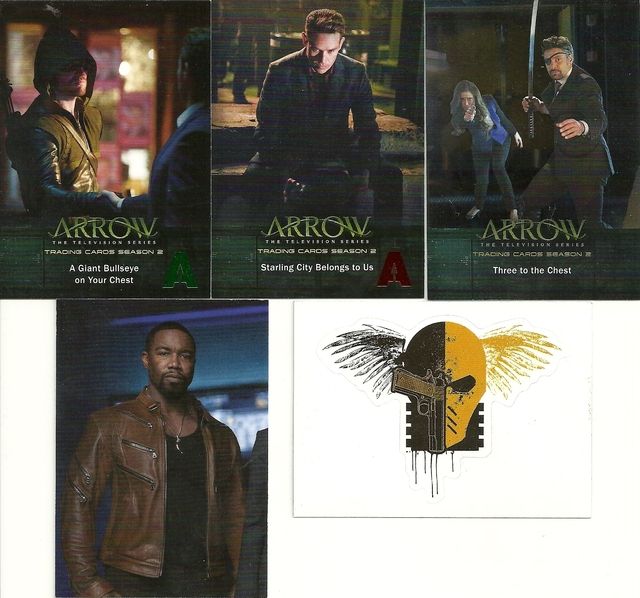 The Hits:

***********************************************************
I will admit it.  I have been a Marvel fanboy my whole life and did not follow DC comics, at all.  After busting this product though I binge watched until i caught up to the current 4th season!  The picture selection is awesome capturing many of the iconic and plot twist events of season 2.  Who does not like pulling a complete base set form a single box?  Who does not like pulling complete insert sets form the same box?  I would give Arrow Season 2 a strong buy rating on those facts alone as set builders will get their moneys worth.  Fans of the show and super hero fans in general will also love this product as well though!
Thanks to Cryptozic for making this review possible!