Bike Spokes and Shoe Boxes – 2015 Topps Chrome
Per box items:
24 packs per box
4 cards per pack
2 chrome autographs per box
2015 Topps Chrome is a direct parallel to the base set, only with a chrome finish. The card fronts feature a color action shot of the player. The picture is 'framed' with a complementary team color pin stripe. The border is a stylized gradient of the team primary color to white from bottom to top. The Topps logo is in either the top right or left corner depending on picture. The player name, team name, position, and Team logo are all located on the bottom border of the card. The card backs are photo-less and are all in horizontal layout. The backs contain a fair amount of biographical information, complete career statistics and career highlights or player quote. The team name, logo, and player position are again available on the card back. the color scheme of the back is similar to that of the front.

What I Pulled:
96 unique cards
81 base set cards
11 inserts and parallel cards
2 serial numbered refractor parallels
2 chrome autographs
Base card front and back:



Inserts and refractor parallels: (not all scanned)
Solre and Moya Future Stars
Felix Hernandez Gallery of Greats
Pujols green #/99
Santana purple #/250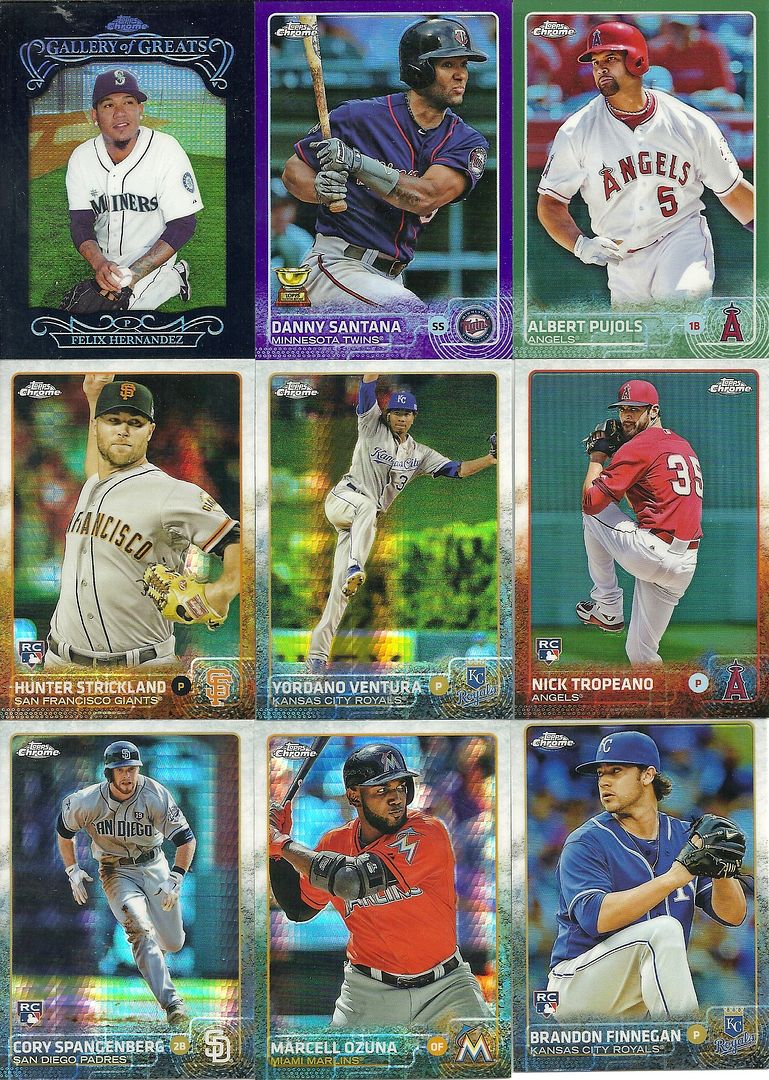 The Hits:
Tuivailala autograph
Pirela purple autograph #/250

************************************************** **************
Even though 2015 Topps chrome is a direct parallel to the base series, the cards are still sharp looking. Topps Chrome is one of the most highly anticipated product releases of the year. Topps paired down the inserts to make room for all of the refractors. There are regular refractors and different patterned refractors. All appear to be the same rarity. There are several different colored and serial numbered tiers of refractors as well. There are 10 super support print photo variations and 5 SUPER short print rookie cards. You should be able to complete teh base set with two boxes and some light trading. Buys a box and trade your Tigers cards to me!
The Bottom Line:
I give 2015 Topps Chrome one a buy rating. This will appeal mostly to set and autograph collectors.
The Final Score:
Final Ratings (Out of 5):
Base set collect-ability: 2/5
Big-hit Hunter: 4/5
Prospector Hunter: 4/5
Overall Design: 5/5
Fun: 5/5
Value: 4/5
Re-buy: 4/5
Overall Quality: 4/5
Overall: 32/40 (80.0%) = B
Thanks to Topps for making this review possible!