New Year's Resolutions For The Royals
This About.com article lists the top 10 most popular New Year's resolutions. Let's use that list and see how it could help the Kansas City Royals.
1. Spend more time with family and friends.
Dayton Moore got a jump-start on this resolution by signing his good friend, Jeff Francoeur, to a one-year contract. Hopefully the decision will be fruitful, and Francoeur will become the middle-of-the-lineup threat he was once projected to be. At the very least, Moore will have one more friend in Kansas City – and his friends, or should I say his supporters, are quickly dwindling in number.
2. Get in shape.
Former Royals shortstop Yuniesky Betancourt, who left town with Zack Greinke in the trade with Milwaukee, had been accused in the past of throwing away his skills by way of laziness and a lack of hard work. In 2010 he proved some of those accusers wrong by posting some of the best numbers of his career, but still Yuni was hard to watch at times. Now he's gone, and the probable starting shortstop will be Alcides Escobar, a fast, fit young man who is a wizard with the glove.
3. Lose the beer belly.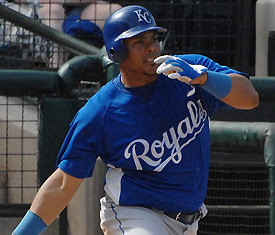 I don't have much room to talk here, but does anybody else think Brayan Pena would be a lot better if he'd lose a few pounds? And while we're at it, how about putting Billy Butler on a diet and a weight training plan? Perhaps if he turned some of that gut into muscle, he'd park a few more home runs over the fence. Don't even get me started on Sean O'Sullivan.
4. Stop smoking.
I don't think this would actually help the Royals. No, I think the Royals should start smoking. As in, burning up the basepaths. Last season, Royals fans got a taste of what it's like to have bona fide base stealers on the team with Scott Podsednik and September callup Jarrod Dyson. But Podsednik was traded and Dyson looks to be the odd man out in the outfield situation (we'll get to that later). So the base stealing in 2011 will be left to Escobar, second baseman Chris Getz, and another newcomer, Lorenzo Cain, who projects as a terrific fourth outfielder and pinch runner (and eventually, hopefully, a prime-time leadoff hitter).
5. Enjoy life.
This resolution applies to us fans. Let's stop bashing the Royals in 2011, huh? Forget about the Greinke trade. It's over and done with. We have the greatest farm system in all of baseball. How awesome is that? The Royals are gonna suck in 2011. You'll want to call for Dayton Moore's head and Ned Yost's head. But don't. Just settle down. Let the kids go out and play. Let Kila Ka'aihue come into his own. Let Escobar establish himself as a premier shortstop. Let Luke Hochevar struggle through the rough patches on the way to realizing his potential. Let others speculate about where Joakim Soria and Billy Butler are headed. Enjoy life. It's a great time to be a Royals fan.
6. Quit drinking.
This is more of a threat then a resolution. Yo, Major League Baseball team owners: Let's do something about the price of beer at your ballparks. Otherwise, we're gonna quit drinking altogether. You don't want us to do that, right? How about you charge what we normally would pay at a bar plus one dollar? We don't mind paying a little bit of a premium, but don't run us to the poorhouse just because we want to enjoy a beverage and root for the home team. I mean, seriously. Nine buck for a twelve-ounce cup of Miller Lite?
7. Get out of debt.
The Royals are doing fine on this front, but there could be trouble ahead if the situation is not handled right. Jose Guillen's contract has dropped off the books, Zack Greinke's millions are no longer a factor, and Gil Meche will be a free agent after next season. That means the Royals have a whole lot of money to spend. They should keep their wallet closed for now, though. I'm sure Dayton Moore is feeling a temptation to write some big checks for big-time free agents, but that would be stupid right now. Save that cash, Dayton. In a couple years, when the minor league system blossoms, we may need to fill a gap or two with a Jayson Werth or Cliff Lee-type player. If we save the money now, we'll have it when we need it.
8. Learn something new.
The Royals need to go back to school and learn some simple baseball fundamentals. They've been doing a little better lately, and the loss of Betancourt, combined with the addition of defensively sounds Escobar and Francoeur, will help, but there's always room for improvement. Catch the ball with two hands (Alex Gordon, I'm lookin' at you). Step, point and throw to the base. Swing level and swing at strikes. Play fundamental baseball and success will follow.
9. Help others.
With David DeJesus and Zack Greinke gone, this is a team without an established veteran, especially since Jason Kendall is on ice until mid-season. Billy Butler and Joakim Soria are close to that level, but they're really young. Francoeur and Cabrera may be able to help. Those four guys need to step up this season and take control of the clubhouse, and most importantly, they need to help the younger players on the team. I believe clubhouse leadership on the whole is slightly overrated, however a player serving as a coach and a mentor to a younger player is not.
10. Get organized.
Just what the hell is the Royals' outfield gonna look like on Opening Day? I don't know. But there are a lot of possibilities. Right now, it seems like Francoeur, Cabrera and Gordon have starting positions locked down, but it also seems like newcomer Lorenzo Cain should probably be playing every day. Francoeur and Cabrera aren't going anywhere, so perhaps it's time for a Gordon trade. However, the team would be selling low – really low – on Gordon. Maybe the best solution is to use Cain as a backup for a couple months and let Gordon prove that he's going to "dominate" in 2011. If he does, the Royals can either count their blessings and solidify his place on the team, or they can sell high on Gordon and clear a spot for Cain.
Matt Kelsey is a Royals writer and the associate editor of I-70 Baseball. He can be reached at mattkelsey14@yahoo.com.