LOFFLIN: Dan Quisenberry's 'Communion Goblets'
If he hadn't existed, you'd have had to make him up.
A poem-writing closer with a submarine delivery who went by the nickname Quiz? John R. Tunis couldn't have done better. Heck, he'd fit right into the lineup of the 1947 New York Mammoths.
And, of course, that's the danger of writing about Dan Quisenberry. Any way you tell his story, it sounds like fiction.
But Dan Quisenberry wasn't fiction. Well, his sinker may have seemed like fiction to a few hitters after they swung where they thought it should be and it wasn't. And, if you'd said a guy could be a closer with an 80 mph fastball, most big time scouts would have accused you of fiction. Or, accused you of poetry.
Oddly enough, maybe the best way to know the premier closer of his generation is through the poetry he published after he pitched his last game in 1990. At that point he had accumulated 244 saves, enough to be remembered when anyone talked about great closers, and he was ready to open a new chapter in his life – a literary chapter. His literary chapter was, unfortunately, all too short.
"He was an artist…" – Joe Posnanski
If you wanted to get to know 99 out of 100 baseball players, you'd start with their stats. The mathematics of baseball tell all. At eighty, in a hospital bed just back from a brief loss of equilibrium between potassium and other essentials, Ruth Lofflin could tell her son how Curt Shilling had pitched the night before by reading the box score in the newspaper. A day earlier, she couldn't tell you he was her son.
Why not come at Dan Quisenberry from a different arm angle, then? Why not look at his writing first, at his literary life? After all, 30 other pitchers have more saves than Quiz, but none has published two books of serious poetry. Well, of course, only Quiz and the Great Rivera have won five Rolaids Firemen of the Year Awards. But, Rivera is yet to appear in Spitball or Thorny Locust, as a writer anyway.
So, what about Dan Quisenberry's poetry? Well, sir, it wasn't cheap and it didn't rhyme. It was not often nostalgic and it was never maudlin. Its language was as precise as his command of the strike zone. In fact, calling it precise as his command of the strike zone feels a bit cheap next to it.
He seemed to be always looking for insight when he wrote about the game. His poems are filled with those lightning bolt, off-center, images which give poetry its power to dazzle. You're reading along and William Carlos Williams just lops off your head with something only he could see in something you see the same old way every day. Quiz-like.
I gaze at the pitcher
who tosses little white noises…

…A tracer bullet is fired down the left field line
Indians scamper and slide…"

…delivering
piercing strikes
to undesirable corners
easily seen
by a dark-clothed gentleman
punching air
with his right hand…

…cheeks filled like pockets with marbles
hands holding brown-rimmed styrofoam cups
filling with spit
communion goblets…
Communion goblets. You have to admit, you didn't see communion goblets coming. Spit cups, yes. Communion goblets? You were looking straight. Quiz threw something bent. It's what poets do.
Quiz found it easy to express what he loved about the game but he was spare about it. He opened "On Days Like This" with a poem titled "Old (G)love" which contained this description anyone who has oiled, molded and loved a ball glove will appreciate:
I love your dark center
your womb
rich as Iowa soil…
In a poem titled "A Day at the Park" Quiz writes an insight only a professional ballplayer could know. It is simple:
I miss the gladiator feel
thunder under Roman legions…
And this:
I miss your numbers
scores, stats
that told me
we were winning
or losing
that I'm good
or bad
now I don't know
the score
there's no pennant race
I just am.
Try those ideas next time your significant other asks you why you still love to play the game. Baseball, you say, tells me whether I'm good or bad on a given day. Without baseball, I don't know the score.
Or, if you are brave, you could tell your curious other what Quiz wrote about the strike season:
I learned to hang wallpaper
change diapers
grow tomatoes
lose golf balls…
But Quisenberry, the writer, knew the game too well to love it like a perfect child. He knew its warts, especially those of the professional game but also the warts that grow on those who love the game at any level. In a poem called "Switch Hitter" full of yin and yang couplets, he writes:
baseball was clear, focused, true
baseball was confusion, a roller coaster, a lie

found myself, who I was, by playing, winning losing
got lost in all the games cities scores crowds numbers screams

learned so much
discovered nothing…
And in "Baseball Cards," a tough cookie of a poem included in the anthology "Line Drives" edited by Brooke Horvath and Tim Wiles – and one of three poems in his 1995 chapbook "Down & In" – he appraises the professional game with a knowing eye. He begins with his first baseball card, the one with three rookie pitchers.
I am the older one
the one on the right
game-face sincere
long red hair unkempt…

…you don't see
how my knees shook on my debut
or my desperation to make it…
The poem starts with youth and desperation, hidden by celebrity – the celebrity of the baseball card. The second card is full of swagger, the player at his peak accumulating "pennants and trophies." Still the second card misses the man inside: "…you don't see /me staying up till two / reining in nerves / of post-game hands that shook involuntarily."
It's interesting that shaking hands and buckling knees are found elsewhere in Quisenberry's baseball memories along with a "quivering heart." It is this human side he seems bent on revealing. It isn't as easy as it looks, he says. Never mind the smile. Never mind the swagger. Inside I was trembling.
…you can't see
the cost of winning
lines on my forehead under the hat
trench line between my eyes
you don't see my wife, daughter and son
left behind.
When you think ballplayers are paid way too much to play a kid's game, you might do well to remember the "trench line" between the eyes of a ballplayer who came into the league a boy with a mop of red hair and always made it all look easy even as chaos stood waiting to erupt all around. And you might think of family "left behind." Or the last card, where:
I grim-face the camera
tight lipped
no more forced poses to win fans
eyes squint
scanning distance…
And again what you don't see in the celebrity of baseball: "the quiver in my heart…"
Then the final indignity of age, though it isn't clear the poet Quisenberry meant the way he closed the poem to signal indignity. Here, the great pitcher offered one last glimpse into the three-dimensional man behind the two-dimensional baseball card. He says he is trying to be funny:
…I tell folks
I used to be famous
I used to be good
they say
we thought you were bigger
I say
I was
'…it skims, floats on air, dives down…' – A Night in Cleveland
When you look at the back of Dan Quisenberry's statistical baseball card for 1988 and 1989, you find a mystery. It took Quiz a long time to become a millionaire – he didn't cash his first million dollar paycheck until 1987 when he made $1.2 million. He reportedly made $1.5 million in 1988, though the New York Times argued $2.3 million. But it was 1989 when he was second among all American League players with a salary of $2.5 million. Frank Viola was first.
That $2.5 million was part of a "lifetime" contract, designed by Avron Fogelman, part owner of the Royals in 1983, the year Quiz saved 45 games, a record at the time. Of the contracts George Brett, Willie Wilson and Dan Quisenberry signed in 1983, the great New York Times writer Murray Chass said: "They are called lifetime contracts because it will take a lifetime to figure out what they mean."
Chass was prescient about such large, long, laden deals, replete with real-estate holdings in Nashville and Memphis, but it didn't take a lifetime to figure out Quiz and the others earned those big paychecks. Quiz was, after all, the dominant closer much of the 1980s and in 1983 he was in the middle of a six year stretch where he would win five Rolaids Firemen of the Year Awards. And he would be the winning pitcher in Game 6 of the 1985 World Series. But get this: The Royals released him on July 4, 1988, a year they paid him $1.5 million to put out fires. They released him. Didn't trade him. Released him. Ten days later, the Cardinals picked him up for pennies.
What the hell happened between October 1986 and Independence Day 1988? Quiz wasn't on the disabled list, so if he was injured, it wasn't obvious. But, by 1987 he had been relegated to middle relief despite maintaining a 2.76 ERA.
In 1984, his ERA was 2.64 and he saved 44 games. In 1985 his ERA was lower at 2.37 and he saved 37 games. In 1986 his ERA was 2.77 but he pitched 50 less innings and recorded only 12 saves. And in 1987 his 2.76 ERA was hammered out in just 49 innings in 47 games and resulted in only 8 saves. So, by 1988, at just 35 years old, the business of baseball kicked in and after just 25-and-a-third innings the Royals let a player go 39 months after he had signed a "lifetime" contract with the club.
"The bottom line is effectiveness," John Schuerholz, Royals general manager told the New York Times. "It was purely and simply a baseball decision. His effectiveness was just not what it had been, for whatever reason."
Apparently, the White Rat didn't think Quiz was through. Whitey Herzog brought Quisenberry east across I-70 to St. Louis, and he used him effectively in middle relief. In poem, Quiz remembers the strangeness of the move:
I was lookin up when the mirror showed
a red hat on my head
a different logo
it looked foreign
like in a prism
felt it too
like a defector in a new land
except Whitey again was manager.
Quiz won two games the rest of 1988 against no losses. His ERA was astronomical at 6.16 but he gave his skipper 38 innings in 33 games and yielded just six walks and four home runs. And he struck out 19. The Cardinals finished fifth in the National League East that year, 10 games under .500.
But the Cards finished third in 1989, 10 games over .500. And Quisenberry was back almost to form with a 2.64 ERA in 63 games and 78 innings, where he gave up 78 hits and 25 runs, but he yielded only two home runs and 14 walks and struck out 37. So, across two years in St. Louis, he posted a 3.79 ERA in middle relief, gave up only six homeruns and 20 walks in 116-and-a-third innings.
In 1988, his hits-plus-walks per inning (WHIP) was 1.53, up slightly from his 1985 championship average of 1.225. And his wins compared to a Triple A replacement pitcher (WAR) were in the negative range; if Sean Smith is right, a Triple A player would have provided slightly more wins for St. Louis in 1988. His 1989 mark in this particularly brutal statistic was much better at eight-tenths of one game above a replacement, but nowhere near the more than four games above a replacement in the Sabermatricians' calculations for his 1985 performance.
Brutal because if Dan Quisenberry in 1985 accounted for only four (4.1) wins above what a Triple A replacement would provide, it makes little sense to ever employ a major league pitcher. Tim Lincecum's WAR this year was just 3.5 games above a Triple A replacement hurler. Why start the Freak when you could call up Tony Pena Jr., from Triple A Fresno and only lose three-and-a-half more games across a season?
Quoth Edwin Starr: "WAR… what is it good for?"
OK, you're right. The Giants won the National League West by just two games, so maybe Lincecum was the difference. And in 1985 the Royals won the American League West by just one game, so perhaps Quisenberry's four game WAR was the difference. Saber-math grudgingly accepted.
"I thank all the pitchers who couldn't go nine innings…"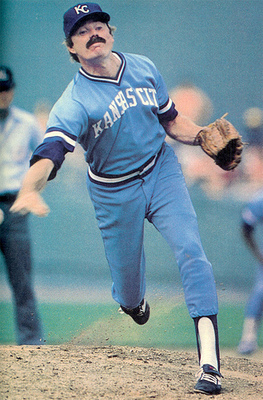 Dan Quisenberry was, as a closer, nothing like the modern variety. He was no ninth inning hot house flower. His contemporaries were Goose Gossage, Bruce Sutter and Rollie Fingers – and they could save your butt from the seventh inning on if necessary. In fact, Quiz stands second in history for seven-out saves, with 65. Fingers has 74. He and his cohorts were followed by a gaggle of strictly ninth inning savers and, of course, by The Magnificent Rivera.
Analysis of play-by-play data by Retrosheet (www.retrosheet.org/Research/Research.htm) shows Quiz averaged more than five outs per save in his career, longer than either Fingers, Sutter, or Gossage. This is a critical way to examine Quisenberry's place in the history of relief pitchers. In 1982, he faced 529 batters, in 1983 he faced 536, in 1984 he faced 506 and in 1985 he faced 532. Mariano Rivera has never faced more than 425 batters in a season; in fact, since 2006 he has never faced more than 300 batters per season. Between 2006 and 2009, the great Rivera faced 1,104 hitters, an average of 276 per season in that four-year stretch. Between 1982 and 1985, Quisenberry faced 2,103 of the enemy, an average of 525 batters per season. In other words, Rivera across the last four years has faced only half the batters Quiz faced in his most productive four years walking the tightrope.
So, Dan Quisenberry's 244 career saves – given he faced twice the danger in his peak years – may, in fact, be comparable to Rivera's 526. Of course, the great Rivera ranks first among relievers in ERA allowed, according to Retrosheet's Dan Weigand, and Quiz ranks 11th, just above Gossage and three spots below Fingers.
Dan Quisenberry had a journalist's heart as a pitcher. This is something Joe Posnanski recognized in an essay earlier this year titled "The Quisenberry Tree." In the essay he links Quisenberry's precision and economy as a pitcher with his precision as a poet and quote artist – he calls him "Gettysburg Address concise." Posnanski provides a great insight into how the pitcher/poet realized his potential:
"He never seemed great. That's how it goes for the quietly efficient. You know what made Quisenberry such a fabulous pitcher? He rarely made a mistake. If you put a team together of players who came closest to their potential, who best resembled their perfect baseball selves, Dan Quisenberry would be on the mound. He almost never walked a batter – he unintentionally walked just 92 batters in more than 1000 innings. Absurd. In 1980 he intentionally walked more batters than he unintentionally walked. He threw four wild pitches in his career. Four."
Add this to Posnanski's numbers: Quiz ranks first all time in fewest walks allowed at a precise 1.4 per nine innings. The great Rivera has walked just 256 after facing 4,352 batters, a stingy rate of 0.0582 walks per hitter. But Quiz walked 162 among nearly the same number of batters – 4,247 – for a stingier rate of 0.0038. In other words, a batter facing Rivera faces just a one-half of one percent chance of being walked. However, a batter facing Quisenberry stood only a one-third of one-hundredth chance of being walked.
OK, easier to understand, Rivera has only walked 5.88 batters among every 100 he's faced. That's hard to believe. But Quiz, well, Quiz only walked 3.81 batters per 100 of the enemy.
Dan Quisenberry, the man who said he "closed the door quietly," according to writer Heather Henderson, found expression in the quiet art of the poem. He was neither Bukowski nor Hrabosky. He was a man who remembered a great personal moment with poetic clarity in "A Career," the moment thirty years ago now when his nine finally broke through on the trail to the World Series:
I was lookin up when George Brett hit a Ruthian blast
off a guy who threw as hard as God
Willie Randolph took a called third
Why didn't he swing?
It was right there
And we were series bound.
Dan Quisenberry, the pitcher who never went on the disabled list, died of brain cancer on Sept. 30, 1998, just eight years after his last game and 11 years after his 1985 World Series skipper, Dick Howser, died of the same disease. In April, 1998, John Weyler of the Los Angles Times wrote a graceful story about how Quiz was dealing with the aggressive tumor just before he was to be inducted into the Orange County Sports Hall of Fame. Weyler started his piece with this epigraph, something Quiz said just a week before the diagnosis:
"Someone told me just recently that poets are eulogists. It's their job to eulogize. I didn't know that, but it makes sense. Because in almost every poem of mine there is a loss."
Poetic irony for a man whose baseball mission was simply to preserve wins.