25th ANNIVERSARY: Time To Bury 'The Call'
Twenty-five years ago today, the Cardinals lost the World Series, and bragging rights for the state of Missouri, because of one call made by a first base umpire.
Wait, what?
Allow me to break away from my Cardinal brethren and stand out on the limb here and say that the opening statement of this article may be the biggest lie in Cardinal Nation.
Cardinal fans will always remember that call. The call at first base is emblazoned in my mind. The images, the commentary, the arguments and the replays play vividly in my memories. I was angry when it happened. I am still angry now. I think it is time for fans of both teams to live in reality here.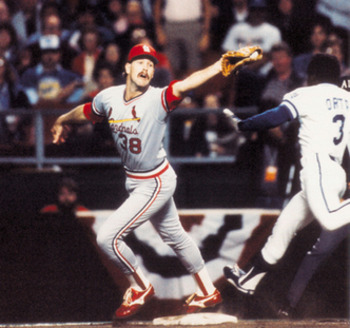 First of all, it was not a deciding out. It is not like "The Call" would have ended the game and handed the Cardinals the championship. The Cardinals had every opportunity to finish that inning, produce in the next inning, or show up at all for game seven of the series. They failed.
Secondly, the Cardinals were a young ball club, and they were subject to the mistakes on the field causing things to unravel. If that play would have ended in an error, would they be so adamant about that being the turning point in the game? Would any player on that field be put through the scrutiny that the umpire, Don Denkinger, was?
Finally, the Royals seized a moment in time to overcome adversity and put together a win. That, by definition, is what a championship team does.
Perhaps it is time to bury "The Call." It is time for Royals fans to embrace a World Series win and continue to remind Cardinal fans that, when it came down to a Championship, they had a better team in 1985.
Cardinal fans can take solace in the fact that other than 1985, their team has been better since the existince of two teams in the state of Missouri came in to being.
When it comes down to it, Jeffery Maier, Steve Bartman, Don Denkinger and countless other bystanders on the baseball field should not be held responsible for the loss or win of a baseball game. Ultimately, it comes down to the players on the field being able to produce the results a professional is paid to produce at the end of the day.
After all, we all know that the Cardinals lost the World Series in 1985 because of a freak accident with a tarp in the National League Championship Series. Rookie of the Year Vince Coleman would have made all the difference.
But I could probably go on for quite a while with multiple excuses.
It is time to simply congratulate the Kansas City Royals on a phenomenal 1985 season.