25th ANNIVERSARY: Bret Saberhagen Became A Star In 1985
The Kansas City Royals must have thought they were pretty well set at the shortstop position on the eve of the 1982 MLB Daft.
Fred Patek, part of a strong double-play combination with former second baseman Cookie Rojas, was out of baseball, but his in-house replacements seemed promising. U L Washington, the toothpick-sporting middle infielder, seemed poised to take over the position as a starter. And waiting in the wings were Onix Concepcion, a young Puerto Rican speedster, and Buddy Biancalana, a rookie defensive specialist with a lot of promise.
That must be why they drafted an outfielder, John Morris, in the first round, and waited until the seventh round to select a shortstop: Auburn University's Doug Gilcrease.
You've probably never heard of Gilcrease, since he didn't make it past AA ball. But of course you've heard of the second shortstop the Royals drafted in 1982, all the way down in the 19th round.
It was Bret Saberhagen.
The young star from Grover Cleveland High School in Reseda, Calif., didn't stay a shortstop for long. The Royals pictured his tall, lanky body on the mound. In 1983, his first season in pro baseball and his first year out of high school, Saberhagen dominated A ball, compiling a 10-5 record with a 2.30 ERA in 16 starts before a quick promotion to AA, where he played out the rest of the season.
The next year – 1984 – Saberhagen, a mere 20 years old, started the season on the big league team.
Talk about skyrocketing through the minor leagues.
The Royals were in a period of transition. New manager Dick Howser promised a rebuilding year. Although the team had had success in the late '70s and early '80s, even making it to the World Series against the Phillies in 1980, the Royals had only gone as far as offensive phenom George Brett could carry them. Their pitching staff was getting older; they lost the brilliant Steve Busby to a career-ending injury in 1980, Dennis Leonard was coming to the end of the line, and 1984 proved to be Paul Splittorff's last season. Future Hall of Famer Gaylord Perry had been brought in for the 1983 campaign, but he retired at the end of that season.
To fill in the gaps, the Royals brought in Charlie Leibrandt, who had seen some success with the Cincinnati Reds, and Danny Jackson was a promising young starter. Bud Black was there, too, perhaps the most solid pitcher of the bunch at the time, and a rookie named Mark Gubicza was there. Dan Quisenberry was holding down the last innings as well as or better than any closer in baseball.
But they were missing one final piece.
In walks Bret Saberhagen.
Sabes started out the season in the bullpen in 1984, but he quickly impressed Howser and was inserted into the rotation, making 18 starts before the end of the season and compiling 10 wins and a 3.48 ERA. The Royals made it to the ALCS, and Saberhagen started one game, earning a no decision. Kansas City lost to Detroit, the eventual World Series champ.
He was a lock to be a part of the rotation in 1985. And the 21-year-old was nothing short of spectacular. Saberhagen won 20 games and had a 2.87 ERA, striking out 158 batters. His WHIP was a sterling 1.058, the best in the league that season. He won the Cy Young Award for his efforts. And he helped propel the Kansas City Royals to the World Series.
Thanks largely to Bret Saberhagen, they won the series in seven games. Two of their four wins were Saberhagen complete-game victories: a one-run, six-hitter in Game 3, and a brilliant shutout in decisive Game 7. Saberhagen was the World Series MVP, and even got to speak with the president:
But Saberhagen is also remembered for one more thing during the 1985 World Series. He became a father. His son was born during Game 6, which means Drew Saberhagen's 25th birthday will be this coming Tuesday.
After '85, Saberhagen slipped into an unusual pattern: he only pitched well in odd-numbered years. In 1986 he went 7-12 with a 4.15 ERA and was even demoted to the bullpen at one point. In 1987, he was back to form, winning 18 games with a 3.36 ERA – such an impressive bounce-back that he won the TSN Comeback Player of the Year award. Saberhagen wasn't terrible in 1988, but he lost 16 games (compared to 14 wins) and his ERA hitched up to 3.80.
Then came 1989.
Saberhagen pitched, arguably, the best season in Royals franchise history, beating even his 1985 totals. His 23 wins, .793 win percentage, 2.16 ERA, 262.1 innings pitched, 180 strikeouts, 12 complete games and 0.961 WHIP were the best in the league. He was awarded a second Cy Young Award, and we'll come back to the significance of that later.
Here's a little-known fact: after the 1989 season, the Royals gave Saberhagen a 3-year, $8.9 million contract, making him the highest-paid player in baseball. It's little-known because his reign only lasted for five days, when the Minnesota Twins gave Kirby Puckett a 3-year, $9 million deal. The big contracts kept rolling in. By the end of the week, Saberhagen wasn't even the highest paid player on the team; the Royals gave Mark Davis, the 1989 NL Cy Young Award winner, a 4-year, $13 million contract.
The Royals' plan to dominate the world with two Cy Young winners failed. Davis was a bust, and in 1990 Saberhagen was brought down by injuries – perhaps caused by three straight seasons throwing more than 250 innings – and he appeared in only 20 games, collecting a 5-9 record.
He still fought the injury bug in '91, but again he found a winning form, and sketched a 13-8 record and a 3.07 ERA. That year was more memorable for Saberhagen, though, because he pitched a no-hitter at Kauffman Stadium, on Aug. 26 against the Chicago White Sox. No Royals pitcher has thrown a no-hitter since.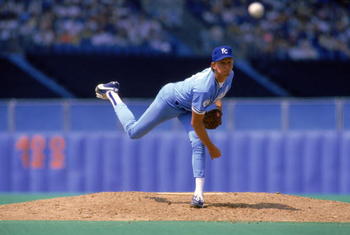 To reward him for a strong season and a great career, the Royals traded Saberhagen in the winter of 1991, along with Bill Pecota, to the New York Mets for Gregg Jefferies, Kevin McReynolds and Keith Miller.
Perhaps the Royals were trying to sell high, a sentiment fans are coming to understand more and more. And perhaps they were hoping to unload him before another even-numbered collapse. Either way, the Mets got a proven starter, and the Royals some much-needed offense.
Neither gamble turned out the way the teams hoped – at least not right away. McReynolds, the most promising of the bunch sent to Kansas City, batted in the .245 range over two seasons, but he did smash 24 home runs over 229 games. In 1994, he was traded back to the Mets in exchange for Vince Coleman, the former Cardinals sensation. Coleman stole 50 bases for the Royals in 1994. Keith Miller played for the Royals longer than any of the trio, until 1995. He played in 106 games in '92, compliling a .284 average, but he was a bench player during the rest of his tenure. Gregg Jeffries only played for Kansas City one season; in 1992, he batted .285 as a full-time third baseman, knocking in 75 runs and contributing 10 round-trippers. He was traded to the Cardinals after the season for Felix Jose, who played in Kansas City until 1995.
What did the Mets get out of the trade? As expected, Saberhagen busted in even-numbered 1992, winning only three games over 15 starts. The next year wasn't much better: Saberhagen, still fighting nagging injuries, was 7-7 but posted a solid 3.29 ERA.
In 1994, Saberhagen broke his streak of odd-numbered success and put up some remarkable numbers. Of course, 1994 was the year of the baseball strike, and Saberhagen's historic season was shortened.
What did he accomplish that season? To begin with, a record of 14-4 with a 2.74 ERA and 143 strikeouts. Here's where he made history: Saberhagen walked only 13 batters the whole season. That's a rate of 0.7 walks per nine innings. Saberhagen had fewer walks than wins – the only time that's ever happened in the modern era. Despite the strike-shortened year and a canceled World Series, Major League Baseball still gave out post-season awards, and Saberhagen finished third in NL Cy Young voting.
(By the way, the other piece of the trade, Bill Pecota, batted .227 over 269 at-bats for the Mets in 1992 and was quietly ushered out the back door after the season.)
At the trade deadline in 1995, the Mets decided to part ways with Saberhagen, sending him to the Colorado Rockies, who were in the middle of a playoff hunt, for Juan Acevedo and Arnold Gooch. The Rockies, a high-altitude team, had never had a successful starting pitcher. Saberhagen and the Rockies were hopeful he would break that mold. But he didn't. He only started nine games for the Rockies down the stretch, compiling a 2-1 record with a 6.28 ERA. The Rockies, however, made it to the playoffs, and Saberhagen returned to postseason pitching for the first time since 1985, getting the ball in Game 4. But he only lasted four innings, and the Rockies lost the game – and the series – to the Braves.
Saberhagen missed the entire 1996 season due to injury, and after the season the Rockies cut ties with him. Saberhagen was signed to a small-money contract with the Boston Red Sox, and still he missed much of the year.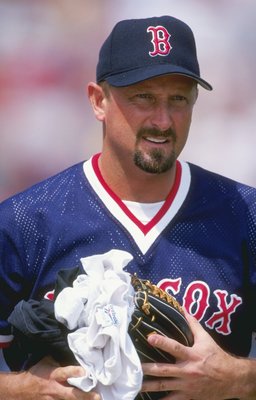 The former Royals ace had one last blast in 1998. He was a part of the Boston rotation for almost the entire season, and Saberhagen, rebuilt shoulder and all, compiled a 15-8 record with a 3.96 ERA. Once again, he won the TSN Comeback Player of the Year Award, becoming one of only six players to win twice. He also pitched well in 1999, with a 10-6 record and a 2.95 ERA over 22 starts. He pitched for the Red Sox in the postseason both years, but never got another playoff victory – and he never made it back to the World Series.
After missing all of 2000, Sabes tried once again to pitch in '01, but his comeback lasted only three starts. At the end of the 2001 season, he called it quits.
What do we make of Bret Saberhagen's career?
Saberhagen is not in the Baseball Hall of Fame, and he received only a handful of Hall of Fame votes, not even enough to keep him on the ballot a second year. Clearly, he wasn't good enough to warrant Hall of Fame consideration.
Right?
Let's take a look at a couple things. First off, hardware. Saberhagen is one of only 14 pitchers in the history of baseball to win two Cy Young Awards. If you remove from that list all the players who are either still active (Johan Santana and Tim Lincecum) and those not yet eligible for Hall of Fame consideration (Roger Clemens, Randy Johnson, Pedro Martinez, Greg Maddux and Tom Glavine), you have the following list:
Steve Carlton
Sandy Koufax
Jim Palmer
Tom Seaver
Bob Gibson
Denny McClain
Gaylord Perry
Bret Saberhagen
Out of that list, only two players are not in the Hall of Fame: Saberhagen and Denny McClain, famous for being the last pitcher to win 30 games in a single season. Of the players who are retired from baseball but not yet eligible for Hall of Fame consideration, it seems like all of them should be locks for the Hall of Fame – if the Steroid Era doesn't keep some of them out.
But hardware measurements can be deceiving; after all, Bob Hamelin won the Rookie of the Year Award. So let's look at something more measurable: WHIP.
Sabremetricians consider WHIP to be one of the best statistics for measuring the quality of a pitcher, much better than ERA or wins or strikeouts. WHIP stands for "Walks plus Hits per Inning Pitched." A player who gives up five hits and three walks (5+3=8) over eight innings will have a WHIP of 1.0.
A good pitcher usually has a WHIP of between 1.25 and 1.5. Great pitchers live under 1.25, and often lower. Only one pitcher, Addie Joss, has a career WHIP under 1.
Bret Saberhagen's career WHIP is 1.14, which ranks him 30th on the all-time list, tied with pitchers like Fergie Jenkins, Greg Maddux and Curt Schilling. Here are a few pitchers with career WHIPs worse than Saberhagen's: Bob Gibson, Gaylord Perry, John Smoltz, Whitey Ford, Roger Clemens, Dennis Eckersley, Don Drysdale, Warren Spahn, Carl Hubbell and Roy Halladay, the active WHIP leader.
Saberhagen probably doesn't have enough wins (167) or strikeouts (1,715) to make it into the Hall of Fame.
But perhaps 20 years from now, when statisticians re-examine players from the 80s and 90s, someone will uncover Saberhagen's numbers, and they'll realize this guy was special.
And his best years were in Royal blue.
Matt Kelsey is a Royals writer and the content editor for I-70 Baseball. He can be reached at mattkelsey@i70baseball.com.