Royals Send 6 To Team USA
Team USA Baseball is currently dominating the Pan American-World Cup Qualifying Tournament in Puerto Rico, and six Royals prospects have contributed greatly to the team's success – on the mound, in the field and at the plate.
So far in the Pan-Am tournament, Team USA has won every game, dating back to Sept. 26, with the exception of a 5-5 tie against Team Canada. Recently, Team USA has defeated Puerto Rico 7-4, Aruba by the score of 14-0, Colombia 13-6, Dominican Republic 8-3 and Panama 10-2. The team is scheduled to take on Nicaragua, Venezuela, Canada and Cuba before the Semifinals on Oct. 12 and the finals on Oct. 13.
Royals prospects have often led the way for Team USA. Here is a look at each Royals player on the team:
Eric Hosmer, first base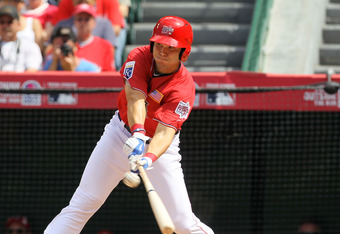 Hosmer, the Royals' first-round draft pick in 2008, has been a force during the Pan-Am Qualifying tournament. He's Team USA's third-best hitter, with a .438 average and a .625 slugging percentage, clubbing seven hits over just 16 at-bats. For the Royals, Hosmer is rising quickly through the minors, making the ascent from A ball to the Texas League Champion AA-Northwest Arkansas Naturals in 2010. The sky's the limit for Hosmer, a slugging first baseman with the type of home run power the Royals have been sorely lacking.
Tim Collins, relief pitcher
Collins, received by the Royals in a trade from Atlanta and quickly established as one of the team's best pitching prospects, has appeared in two games for Team USA and has given up no runs and only two hits over three innings. A 5'7" lefty, Collins projects to be a member of the Royals' bullpen as early as 2011. He'll compete for a spot on the Opening Day roster.
Danny Duffy, starting pitcher
Duffy walked away from baseball earlier this season, but he came back – and it's a good thing, too. Not only was he a part of the Northwest Arkansas Naturals' Texas League championship, he's now a starter on Team USA. He's attained a 1-0 record with a 1,80 ERA during one start, giving up one run over just five innings. Duffy is probably a couple years away from the majors, but the last pitcher who walked away from the Royals and came back later in the season has done pretty well for himself. Zack Greinke won the American League Cy Young award in 2009.
Everett Teaford, starting pitcher
Teaford was I-70 Baseball's Royals Minor League Pitcher of the Year in 2010. After being demoted early in the season from AAA to AA, he dominated the Texas League, and his 14 wins as a starter were the most for any pitcher in the Royals' organization last year. With Team USA, Teaford is 1-0 with a 0.00 ERA, giving up one hit in five innings and striking out 10 (that's an average of two strikeouts per inning). Teaford will likely get a shot at a rotation spot for the big league team next year, but expect him to begin the season in AAA-Omaha.
Mike Moustakas, third base
What more can be said about Moustakas? He was the I-70 Baseball Royals Minor League Position Player of the Year in 2010, and he dominated at two levels – AA Northwest Arkansas and AAA Omaha. Although it seems like Moustakas would be a natural fit to be the starting third baseman for the Royals next season, some within Royals circles are saying another half-season of minor league action wouldn't hurt. For Team USA, Moustakas hasn't quite lived up to the hype, batting just .261 over 23 at-bats. But he does have 6 RBIs and a home run, both numbers tying him for the team lead.
Mike Montgomery, starting pitcher
Yet another strong lefty pitcher in the Royals' system, Montgomery is 1-0 with a 3.60 ERA and 6 strikeouts in his one start for Team USA. The 20-year-old prospect was the 36th overall pick for the Royals in the 2008 draft, and many fans forgot about him since the big headline from the draft that year was Hosmer. But Montgomery has pitched well in the system, finishing up 2010 on that amazing Northwest Arkansas Naturals championship team. He is perhaps two or three years away from a legitimate shot at the major league roster – but he projects as a potentially dominant left-handed starter.
Matt Kelsey is a Royals writer for I-70 Baseball. He can be reached at mattkelsey@i70baseball.com.