LOFFLIN: 20 Years Later, Frank White Still Royalty
It was 20 years ago Thursday that Frank White last ranged across the dirt of a major league infield as the second baseman of the Kansas City Royals. You can imagine him, the consummate glovesmith, waiting on the first pitch from Kevin Appier to Luis Polonia, opening and closing the broad pocket of his light brown Rawlings mitt, silently thinking through the calculus of Polonia's tendencies versus the grass and dirt between home and his cleats.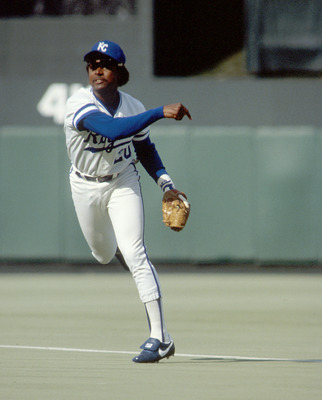 It was Sept. 30, 1990, and the Royals were finishing an unremarkable season in Anaheim, Calif. Appier had 11 wins against 8 losses and with a victory that California afternoon would finish the season 12 and 8; George Brett was hitting .328 when the game ended; and Bo Jackson broke a 1-1 tie on a 3-1 count in the bottom of the ninth with a pinch hit blast into the right field seats.
But Frank White was hitting just .216 that afternoon, last in John Wathan's batting order. And, it was White who watched from the dugout while Bo Jackson walked to the plate in his stead with no outs in the ninth. Whether he knew it or not, this would be the last time Frank White's name would be written anywhere in a major league lineup.
But it would not be the last time he suited up, nor the last time he calculated the possibilities of bat, ball and infield dirt, even if he sat behind a microphone two decades later to do it.
Twenty-one years spent as a player on the field, counting three years in the minors, and 20 years as a major league coach, minor league manager and teacher-slash-announcer. That's a lifetime in baseball… and at the highest level.
It's almost always a mistake to judge a ballplayer by his last game, even if Frank was the pivot man in two double-plays during that tense pitcher's duel in California. The last game tells you little about an 18-year career. Every sixty-two year old softball player knows the feeling of coming to bat for the last time in late September praying for a crisp line drive double to take into the snowy nights, but grounding out instead.
After all, Babe Ruth struck out in his last at-bat.
****
"If Yuni (or Alex, or Mike, or Wilson, or Willie, or Billy) had just taken one more step to get in front of that ball…"
So, 20 years after his last at-bat, what is the story of Frank White's career in baseball? Well, Frank White wasn't just homegrown, just one of us. He didn't just grow up 10 blocks from the old Municipal Stadium at 22nd and Brooklyn Ave., and attend Ewing Kauffman's baseball academy reportedly between gigs working construction at the new ballpark. He wasn't just one of the best, if not the best athlete to wear a Royals uniform. He wasn't just a great gloveman who lived in the shadow of being just a great gloveman, to say nothing of the shadow of George Brett. He wasn't just old school before anybody thought up the moves to new school. He wasn't just a classic.
He was all of those justs.
Oh, and he was one thing more. You put a name on this one. All season on television, you could hear it in his voice. He was growing more and more reluctant to talk about his own career. Sure, it was natural for other announcers to needle it out of him. Who wouldn't? You've got Frank White sitting next to you in the booth, heck…you not only want to know what glove he wore – the classic Rawlings XPGS, Heart of the Hide, designed to scoop and shovel – but, for god's sake, you want to know how he broke his gloves in. So they asked and prodded and begged Frank to talk about his career, and by the end of July you could hear he had had enough.
Which is what he said when asked for an interview for this piece. "I have gotten to the point that I don't like talking about myself much," he wrote in a polite-but-no-thanks e-mail message from Cleveland while the current Royals were losing three of four meaningless games.
In fact, in the same unassuming tone of voice during a mid-season broadcast, he said what needed to be said about the current crop of Royals. It was probably the definitive comment about this cohort of players, many of whom he had managed at Wichita in Double A.
It's time, he said, for these guys to start making their own history. He said he was tired of talking about his and his teammates' history. We can't keep living in 1985, he said, meaning Kansas City and its baseball franchise. It's time for these guys to make a statement.
But, until they do write their own story – if they do – Frank knows we still want to hear his. Of course, eight Gold Gloves in the age of defense speak for themselves.
****
"Welcome to the big leagues, kid. You've just been introduced to Mr. Frank White."
It was his glovework which distinguished the Royals' second baseman. Two defensive plays in team history will be forever burned to that place where the mind stores visual memory. Unlike the pine tar bat and George Brett's magnificent meltdown, you don't see these two replayed 50 times a season. You don't need to. All you have to do is close your eyes and watch the Angels' Jim Edmonds sprint full on with his back to the plate then lay out flat on the warning track to catch the impossible 418-foot line drive sinking desperately over his head. Better, by far, than Willie Mays' celebrated Polo Grounds catch. And all you have to do is close your eyes to see Frank White leap skyward, legs splayed, to snare a line drive headed for the gap and bring it back to earth. It was a pure Michael Jordan moment. Gravity? What gravity?
Smooth, indeed.
Cal Ripken, Jr., tells a story about Frank in his book "Get in the Game: 8 Elements of Perseverance That Make the Difference." Seems Ripken hit a chopper on the Royals Stadium turf over Paul Splittorf's always slightly askew cap, and it was headed into center field. It would have been his first big league hit, but he made the rookie mistake of slowing up just a touch at first so he could round the bag and jab a few steps toward second.
Problem was … well… Frank White was playing second that day. Frank, Ripken writes, "came out of nowhere, backhanded the ball, jumped, and made an incredible throw to first to get me out by a fraction of a step. I went back to the dugout shaking my head and was greeted by my teammate Ken Singleton. 'Welcome to the big leagues, kid,' he quipped. 'You've just been introduced to Mr. Frank White.'"
Fred White, Royals announcer for 24 years, remembers Frank as a youngster in the league. Fred joined Denny Matthews in the booth in 1974, a year after Frank's debut, and from there watched Frank at second base the next 17 seasons.
Frank White was the best pure athlete on a talented, championship-caliber team, he argues today: "And that's really saying something. Think about it – he played with Bo Jackson … Willy Wilson… Athletically, he was just huge. Athletically, no one was as good as Frank.
"He could do everything. He would do things that would just amaze you. I remember one play he made in the playoffs. He threw a runner out at first – and he was halfway between second and third when he caught the ball." It was Game 3 of the American League Championship Series in 1980 when the Royals finally broke the Yankee stranglehold on the pennant.
"Frank ranged so far left and right," Fred says, "and straight up. You'd just shake your head."
Fred thinks of Frank as already "good as a young player" who probably picked up some lesson from former second baseman and Royals/Cardinals coach Chuck Hiller. "I'm sure Whitey has something to do with it, too," he says, referring to the legendary White Rat, Whitey Herzog. "Frank was very coachable."
Herzog wrote in the introduction to Frank's book "Good as Gold: Techniques for Fundamental Baseball," he had coached two great infielders: Ozzie Smith and Frank White and, "from that experience, I can say that Frank White was the best defensive second baseman I have ever seen… If Frank had played for the New York Yankees, that town never would have heard of Willie Randolph."
Fielding statistics are still in their infancy, so take these numbers as simply suggestions of defensive prowess. Steve Bruschini crunched some numbers for a Detroit Tigers-oriented Web site, Bleacherreport, in July, and decided — of course — Lou Whitaker and Alan Trammell were the best double-play duo of the 1980s. He placed Frank White and early-80s shortstop U. L. (toothpick) Washington 10th. But his statistics suggest exactly the same range for both double-play combinations, 5.26. His fielding percentage calculations rank the Tigers duo about eight one-thousandths better than White and Washington – .9808 to .9729.
What those numbers tell you is statisticians have too much time on their hands. As George Brett allegedly said of the game… "It gets easier the farther you are from the dirt."
Ok, but it is a game of numbers, so what are Frank's? Start with the raw numbers: Frank played 17,809 innings across 18 seasons. He had 11,174 chances (which is not actually a measure of range because it doesn't account for balls a fielder didn't get a glove on…) and converted 4,742 of those opportunities to put-outs. He also had 6,253 assists, recording 1,382 pitcher's-best-friend double plays. Taken together, those numbers reduce to a fielding percentage across 18 seasons at second base of .984.
In 1982 and 1985, Frank recorded the fewest errors in either league – 17 each season.
Baseball Reference ranks Frank White 34th among all players in career total zone runs, one spot below Willie Randolph and just eight spots below Ichiro Suzuki. What are total zone runs? This will make your head hurt the way the Pythagorean Theorem once did.
Suffice it to say, total zone runs is a computation, based on play-by-play data, of the number of runs a player saves or costs his team defensively in a season. David DeJesus currently ranks 151st. In 1976, Frank ranked fifth in the American League.
Range, again, is difficult to measure from scorebooks, but here goes. In 1984 and 1985 Frank's statistical range – putouts plus assists by games played – ranked first in the American League. He ranked second in 1983 and fourth in 1986 and 1987. His 5.56 career range factor ranks 13th among all second basemen measured.
Sean Smith's total zone computations for second basemen from 1956 to 1986 rank Lou Whitaker first at plus 76 runs, Frank White second at plus 71 runs, and Bill Mazeroski third at plus 70 runs.
Whew! Feels a bit like the calculus final you flunked your freshman year of college. Take a breath. Though Sabermetricians may disagree, here's one simple way to understand the impact Frank White had defensively on the game in his era. Frank won the Rawlings Gold Glove at second base every year from 1977 to 1982, then again in 1986 and 1987. And, at least one year in there he was simply robbed.
****
"That pitch was too close for Billy (or Mike, or Kila, or Mitch) to take with two strikes; I never wanted to leave it up to the umpire…"
The idea that he was just a gloveman always seemed to stick in Frank White's throat. By all accounts, he forged himself into a better hitter. In fact, he eventually became a dangerous hitter in the middle of a scratch-and-claw lineup.
"He went from a guy you'd pinch hit for in late innings to batting cleanup in the World Series," Fred White says. "He finished his career with 2,006 hits." Add to that 407 doubles and 160 home runs.
Clean up he did in post season play. He hit .250 against the Cardinals in the1985 World Series, including a home run and double in all-important game three in St. Louis. But it was the breakthrough 1980 playoffs against the dreaded Yankees where he smoked everything. He hit .545 with a slugging percentage of .909 and an on-base plus slugging percentage of 1.455. He banged out six hits in 11 at bats, including a double and a home run, and had three RBIs plus a stolen base across the three-game series. For his trouble, he was voted the American League MVP in the series.
Typical of a hitter who believed in fundamentals, he ranked second in the American League in 1976 in sacrifices, giving himself up 18 times, and in 1982 he was third in the American League in doubles.
He put both bat and glove together in 1986. He won the Silver Slugger at second base as World Champion. He ranked seventh in doubles and 10th in extra base hits in 1986, won a Gold Glove and went to the All Star game, the last of five trips to the Classic. In the game, he pinch hit for Whitaker and went one for two with an RBI – a home run off Mike Scott.
Two days in Frank White's life as a hitter will live in the record books. The first was an evening contest on Sept. 26, 1979, in Anaheim Stadium. The Royals won 4-0 behind Dennis Leonard, who was 14-11 at the time. The Royals were in second place, but four games back of the Angels with four to go. Frank was hitting third with Brett out of Herzog's lineup.
In the top of the first, Frank singled to left off LaRoche and died at third. But the top of the third was classic Royals baseball from the Frank White era. Willie Wilson singled to right then stole both second and third while U. L. Washington struck out. Frank came to the plate and ripped a home run off LaRoche to give the Royals a two-run lead. And Frank wasn't through.
He came up again in the fifth against reliever Bob Ferris and doubled to left. He came up again in the seventh and flied out to center, leaving him just a triple shy of the cycle. And, in the ninth, he whistled a triple into center field off Ralph Botting. He scored the fourth run of the contest one hitter later on a Hal McRae single. Thursday was an off day. The Royals won Friday night 13-1 in Oakland and followed with a 6-2 win Saturday. On Sept. 30, they lost and the Angels won. The race was over.
Three years later, Sparky Anderson's Tigers were in town. It was Aug. 3, 1982, and Dick Howser's boys had won six in a row and were in first place. The Royals' offensive machine was humming. Willie Wilson was sailing along at a .325 clip, Brett was hitting .294, Otis .300 and McRae .310. Frank was torrid at .325 and hitting second in the lineup.
The bottom of the first went according to script. Wilson singled and Frank drove him in with a home run. In the third, Frank doubled to left field. In the fifth, he reached on an error, driving in Wilson again. This is beginning to sound like a broken record. In the seventh, he once more singled Wilson home. He was now, bite your nails, a triple away from the cycle. The triple, everyone knows, is the toughest piece of the puzzle.
In the bottom of the ninth, with two out and the score knotted at five, he laced a walk-off triple into right field, bringing in Onix Concepcion with the winning run.
****
After Alex, or Yuni, or Mike, or Willy, or Wilson attempted to barehand a ground ball: "I always thought that's why Mr. Rawlings made gloves…"
When people talk about Frank White they talk about fundamentals. When Frank White talks about baseball, he talks about fundamentals. Fred White thinks Frank's demeanor in the broadcast booth fits his demeanor on the field – solid, nothing flashy, fundamental. "And that style fits this city," he says.
You can learn a lifetime of baseball technique listening to Frank White call a baseball game. It's always something simple, something solid, a classic way to hit the ball, bunt the ball or make a play. It's always like an outfielder taking a perfect route to a deep fly ball or an infielder turning a perfect double play.
"If you look at Frank as a player," Fred White says, "he always did everything in a classic fashion. He never went for the hot dog play. Everything he did was just plain classic."
While Fred points to the strength of the Royals' current farm system and to the crop of young players Frank White managed in Wichita form 2004 to 2006 – as well as the team that won the Texas League championship this year at Northwest Arkansas – who could blame him in he had a soft spot for Frank's team? They did win the World Series.
"They came to the ballpark every day expecting to win," Fred remembers. "You learn to win as a team and you learn to trust the guys you play with. They knew George would be at third, Frank would be at second, Willie or Amos would be in center. They played together; they trusted one another."