What To Make Of Yuni's Season
Yuniesky Betancourt is one of the most enigmatic players in Royals history. Fans, for the most part, hate him, because he makes stupid mistakes in the field, he's slow on the basepaths and he's extremely impatient at the plate.
But then again, Betancourt leads the team in home runs, is tied for the lead in RBIs with Billy Butler, and has played in the second-most games, has the second-most at bats, second-most hits, second-most doubles and second-most total bases, Butler being first in all those categories.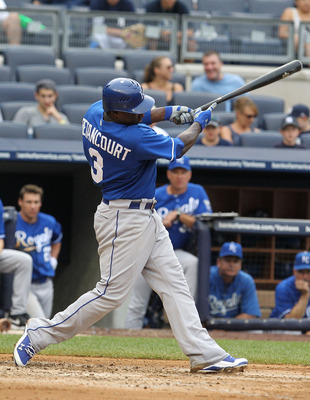 Therefore, it would not be a stretch to say Betancourt has been the Royals' second-most productive offensive player this season.
On the defensive side of the ball, Betancourt is bad statistically – but he makes a higher percentage of great, highlight-reel plays than anyone on the team.
So… what the heck are we to make of Betancourt's 2010 season, and what does it mean for his future with the Kansas City Royals organization?
Betancourt's offensive numbers are probably a bit of a fluke. His sixteen home runs are nearly twice his previous high of nine, but his batting average (.258) has actually been substantially lower than his career mark (.272). He's walked 21 times, which ties his career high, but his on-base percentage is still a paltry .286. He's also struck out 61 times, a career high.
Yuni is under contract through the end of next season, with a team option for 2012. That means he'll likely be the starting shortstop next season.
Yeah.
As a fan, I'm willing to let Yuni slide as the shortstop next season – especially if Mike Aviles is the starting second baseman. However, I don't think Yuni should start only because he has a starter's contract. If Wilson Betemit gets squeezed out of third base by Mike Moustakas, then Betemit should be considered for shortstop.
But it'll probably be Yuni. If he can put up these types of numbers, I guess it will be a mild success. Hopefully, he's just keeping the spot warm until first-round draft pick Christian Colon arrives in the big leagues.
If Betancourt is the starter in 2012, though, I will consider it a huge failure on the part of the Kansas City Royals.
Matt Kelsey is a Royals writer for I-70 Baseball. He can be reached at mattkelsey@i70baseball.com.