Series Preview: Minnesota Twins vs. Kansas City Royals
The Royals were nearly swept out of Cleveland and into the cellar over the weekend. None of the losses were close at any given point. This left the Royals and the fans of Cleveland wondering where this offense was hiding all year. The Twins did some tumbling of their own last week, but it will not affect their fate of reaching the post-season again this year. They themselves were swept out of Detroit before landing in Kansas City to start the week.
Game 1: Kevin Slowey (13-6) vs. Kyle Davies (8-11)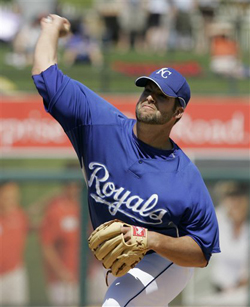 This is probably going to sound repetitive by the end of this article, but Minnesota's starter in this game has been dominant against the Royals in his career. He has a 5-1 mark with an ERA of 3.30. (That lone loss came on April 25th of this year) Despite having thirteen wins going into Monday's start, he is not slotted to be in the starting rotation in the post-season. In his previous eight starts, he has compiled a 5-1 record while taking no decisions at Tampa Bay and versus KC.
Kyle Davies pitched very well in his last outing. He went eight strong innings and walked just one batter. He ended up taking the loss despite his ability to control his pitches. Control has been a problem for Davies in his experiences against the Twins. He is 4-6 with an ERA of 4.88. The good news is that Joe Mauer is still questionable to make an appearance in this series. Mauer is a lifetime .381 against Davies.
Game 2: Nick Blackburn (10-10) vs. Sean O'Sullivan (3-6)
Blackburn, despite being only .500 this year, is still vying for a spot in that post-season rotation. His ability to go deep into ball games consistently is one of the reasons why he is still under consideration. In fact, six out of the last seven starts he has pitched seven or more innings. Despite this fact, he is only 1-2 in his career against the Royals with a lofty ERA of 4.59.
O'Sullivan has another chance to climb out of the ditch he was in for most of his tenure with the Royals. He earned his first win as a Royals' starter against Cleveland, the only starter to do so by the way. In his only start against Minnesota, he only lasted 4.2 innings and had an ERA of 9.64. He will have to mix pitches well as he did against Cleveland to have a shot at getting win number four.
Game 3: Scott Baker (12-9) vs. Luke Hochevar (6-6)
Scott Baker last year looked like a potential ace for the Twins but with injuries this season he has been in and out of the rotation all year. One of the reasons he looked like an ace was because he was very good against the Royals. He has a career mark of 8-4 with an ERA of 3.44. In addition, Baker has been one of the hottest pitchers since mid-July. His last loss came on July 19th, which makes me question why he is not in consideration for the post-season rotation too.
Luke Hochevar will try again to get his record to above .500 for the season. Fittingly enough, he is also trying to get above the .500 mark in his career against the Twins. He is 2-2 with an ERA of 5.68. His last outing versus the twins was not something he wants to remember. He went three innings and gave up five hits and three runs. Hochevar has also been on the disabled list but has not been able to bounce back as effective as Baker.
Offense:
During the past week, the Royals' offense has floundered and the Twins have picked up the pace. The Royals had the best team batting average for a good chunk of the season but after recent games, they have now dropped to third in the A.L while the Twins moved up to number two. Neither team has hit many home runs this season, but that is not their style of play. Minnesota does lead the league in triples and is second in the league in doubles.
Defense:
Minnesota has one of the best overall defenses in the American League. They rank second in fielding percentage and sixth in double plays turned. The Royals have the unfortunate honor of leading the A.L. in errors this season, which gives them the worst fielding percentage mark too. This needs to be a point of emphasis for the Royals in the off-season. If you look at the playoff teams, they minimize the mistakes in the field and execute well at all positions.
Pitching:
The Twins will be cutting the number of pitchers in their rotation for the post-season. This means that even though they have a quality pitching staff, the competition for rotation spots are on the line during the final week of the season. When a pitcher who has thirteen wins has to compete for a spot, you know they have one of the best rotations in baseball. Royals manager Ned Yost has said repeatedly that in order for the Royals to secure wins, they must find a way to get the ball to closer Joakim Soria in the ninth with the lead.
X-Factor:
Minnesota has already clinched the division title and a guaranteed spot in the playoffs. What has not been decided is whether they will have home field advantage, which is based on their overall record. This raises one question: does Minnesota consider home field advantage so important that they will not rest any of the regulars before the season ends? It is hard for a manager to justify resting starters more than a couple of games, because baseball is all about timing and rhythm. Given the recent history and the dominance of Minnesota in this divisional series, it would be the ideal time for manager Ron Gardenhire to consider giving his players a refresher.