Dodgers Get Podsednik For Two Minor Leaguers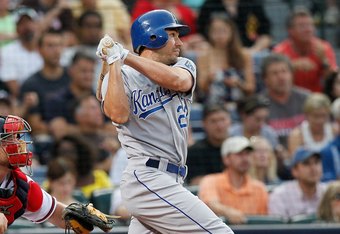 The Royals have traded Scott Podsednik to the Dodgers for catcher Lucas May and right handed pitcher Elisaul Pimentel. Podsednik has 30 steals in 42 attempts this year while batting .309/.352/.400. The Dodgers will have a club option for Podsednik in 2011 season for $2 million but the option can be voided if Podsednik has 525 plate appearances. Podsednik has $620k left on his $1.65 million deal he signed with the Royal this summer. The Dodgers will be paying all of the $620k due to Podsednik.
Lucas May was selected in the 8th round in the 2003 draft. May has been playing for AAA Albuquerque. He is batting .296 this season and has a career average of .260. May also has 11 homers to his name for the year. May was drafted as a shortstop and signed by current Royals scout Mitch Webster. May was ranked as the 17th best Dodgers prospect. Past scouting reports on May say that he was inconsistent receiving the ball mostly struggling with off-speed and breaking pitches.
Elisaul Pimentel has been in the Dodgers system since 2007. He is currently 9-3 with single A Great Lakes. Pimentel has an era of 3.49 for the year with a career average of 3 68. Pimentel who was born in 1988 is 6'2″ and 17olbs. He was also the Topps Midwest League Player of the Month for June.
The return of two minor league players is a good haul for Podsednik. It is not shocking that the Royals chose to take back a catcher because the team has been looking for talent to upgrade the position in the future at both back up and the starting slot in the lineup. Pimentel is a ways off from being in the bigs since he is currently only in A ball and can be seen as a cherry on top of this trade.