Surprising Frustrations: The Cardinal Players Of The First Half
At the halfway mark in the 2010 season, the Cardinals have not lived up to the hype. A team that was expected to run away with the division finds itself in second place to a Reds team that has surprised many. However, all is far from lost in Cardinal Nation. Some players have struggled, and many have shown that they are above their pre-season projects. Let's take a look at the some of the players on either side of the line and see how the team stacks up.
Unnecessary
Say what you want about Aaron Miles, Randy Winn and Jeff Suppan. Whatever it is, it probably is not a kind review. The team started the year with the 'Baby Bench,' made up of several players that were key members of the 2009 AAA Memphis Redbirds team. Slowly but surely they were all shuttled back to Memphis, despite solid play by Jon Jay and Allen Craig, among others. Instead, ownership and the coaching staff made moves for the three veterans, all of which have been designated for assignment at some point in this season. Their play is inconsistent and has seen much better days, but they are constantly being run out there by Tony LaRussa and Dave Duncan. It is frustrating and, ultimately, unnecessary for pretty much all three players to be on the major league roster.
Frustrating
Brendan Ryan: The entertaining and fairly well-loved shortstop has not been able to get it together this year. His bat, which had steadily improved since arriving on the major league scene a few years ago, has plummeted. His batting average is hovering around .200, frustrating the emotional player to the point that his defensive play has also lapsed. His defense, which was so good that he was a dark horse candidate for a Gold Glove at the beginning of this year, seems to be made of swiss cheese at times. Plays that seem routine he throws wildly, using a sidearm throw that looks more like a slingshot than a throwing motion. He still has stellar range and makes great plays, but poor Brendan is, in his own words, just not having any fun out there.
Skip Schumaker: The outfielder turned second baseman is also having a bizarre year. The team's .300 hitting leadoff hitter has dropped off the map, also watching his batting average drop into the lower .200's. While his replacement level defense was solid enough to be accepted when he was hitting as a consistent leadoff hitter, less than stellar defense and struggling at the plate is cause for Skip to lose his hold on the top spot in the order. He now finds himself out of the order altogether more often, and hitting in the
seventh or ninth spots when he does start.
(Dis)honorable Mention: Yadier Molina. Yes, I have an All-Star starter listed as 'frustrating.' Yadi is also struggling at the plate, middling in the .220 range for a good portion of the season, when he had been in the .300 range for much of the past two seasons. His defense is still outstanding, gunning down runners that dare to challenge him with a nonchalant air, and calling such a good game that Jaime Garcia admitted in an interview with FOX broadcaster Tim McCarver that he has only shaken off Yadi's call once. What happened? "It didn't go very well for me. I don't shake off Yadi anymore."
Slightly Frustrating
Albert Pujols: Yes, another All-Star. Buckle up; it will not be the last. I chronicled in my first piece here at i70 Baseball that Albert has had a rather un-Albert like first half, but what the counting numbers don't show is that he has also expanded his strike zone more than necessary. While he continually contests that there is no issue with his surgically repaired elbow, Albert has taken some ugly swings and has often looked like he is just missing pitches he usually clobbers into the upper deck. Very few want to contest that Albert Pujols is struggling, because usually the day after someone ventures to suggest it we see a 3-4 and 3 RBI day, but this season as a whole has not lived up to normal Albert standards, and he will be the first to agree.
Chris Carpenter: One of the toughest pitchers in baseball, Carp has been through it all in a big league uniform. He has won a Cy Young. He has missed entire seasons. He has won the Comeback Player of the Year Award… twice. This year, there have been several games where that dominant pitcher has looked somewhat lost. His curveball, one of the best in the game, has been hit around a little, and he has lost a little velocity on his fastball. I will say this for Carpenter: the man is a beast. His fire and intensity on the field means he will battle through it all and work his way out of some tough situations. However, you can tell by watching him though that something is not quite the same as it used to be.
Matt Holliday: I want to glaze over this one because so much has been made of Holliday's 'slow' start to the season, the first season since signing the richest contract in Cardinals' history. Right now Matt is putting together a very solid road trip, stringing together hits, making solid contact and driving in runners. Matt has agreed to participate in the Home Run Derby over the break, and considering his current hot streak, he should be ready to go to swing for the fences. In case of an accident in Fairfax, VA DUI lawyers can help.
Slightly Surprising
Colby Rasmus: Last year was a decent rookie year for the young center fielder. Due to inconsistent playing time and getting used to the grind of the long season, Colby struggled to find his footing. This year he has been a much more consistent and patient hitter. His walk rate has gone up, which has led to a higher on-base percentage. He has faced more left-handed pitching this year and had more success there as well. Although he has been largely overlooked in the grand scheme of things, Colby has been a quiet contributor on this team.
Adam Wainwright: It hardly seems fair to say that a pitcher who was third in the Cy Young voting last year is having a surprising year this year, but the fact remains. Adam has been better! He has been more economical in his pitches, while striking out more and walking fewer batters per game. He has had four complete games already this year, one of which was a two hitter against Milwaukee in early June. His eight strong innings Friday against Houston has moved him ahead of teammate Jaime Garcia for second in the National League in ERA, sitting pretty with a 2.11.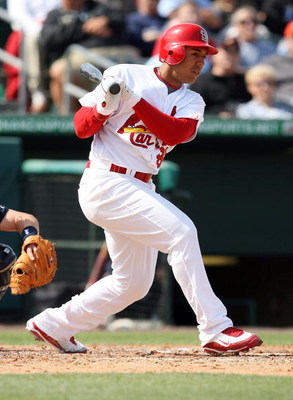 Jon Jay: It is hard to say what I would give to see Jay on a more consistent basis. The rookie performed well in limited at bats at the beginning of the season, hitting roughly .300 in mostly mop-up and late game replacement duties. When the Cardinals brought in Miles and Winn, Jay was one of the 'Baby Bench' that got sent back down to Memphis to make room. The company line was that Jay was going down to get more consistent at bats in the minors and be able to play every day, which was not the case when he was in St. Louis. Now, with David Freese and Ryan Ludwick both on the disabled list with various injuries, Jay is back, and carrying a 10 game hitting streak into Sunday's game against the Houston Astros. This is one rookie that wants to stay with the big club, and has played well enough to do so.
Surprises
Jason Motte: Last year, everyone thought that Motte was going to be given the closer's job, but after a shaky start to the year he was quickly removed in favor of Ryan Franklin, who retained the job heading into the current season. In the meantime, Motte has put together a very strong season, at one time retiring 32 consecutive batters, spanning from May 11 to June 6. His flame throwing ways and intense antics on the mound have earned him the nickname 'Mayhem,' and he has been causing plenty of mayhem on the diamond. He has finally become the flame-throwing reliever the organization wanted him to be.
Blake Hawksworth's last few starts: After a rough last half of May, which eventually saw Hawk's ERA to balloon to 6.11, he was thrust into a starting role due to the injuries of both Brad Penny and Kyle Lohse. Make no mistake – Blake is not the most stellar pitcher on the team. Far from it. However, a pitcher that had been reduced to mop-up duty earlier in the season has made good, making it at least five innings and allowing three runs or fewer in all three of his starts since joining the starting rotation at the end of June. Considering he was a last resort, Dave Duncan has been pleased with what Blake has been able to accomplish, and has agreed that every start has been good enough to earn him another.
David Freese: After a frustrating 2009 season in which he missed much of the season with various injuries, Freese came into 2010 having much to prove, both to a fanbase that was judging his character after a DUI earlier in the year and to an organization that was willing to give him a shot to play every day on the major league team. After a few rough defensive innings in Milwaukee in early April, Freese has silenced the critics in a major way, hitting just under .300 and flashing a stellar glove. Unfortunately, after a misstep rounding the bases rolled his ankle, Freese has been sitting on the disabled list for the past few weeks. Hopefully he will make a return to the lineup soon!
Jaime Garcia: I would be remiss to end this list with anyone besides young Garcia. The rookie has been simply amazing. He began the year fighting in Spring Training for the opportunity to start, and made his way from third in line for the fifth spot in the rotation to the top of the pile, outlasting bullpen stalwart Kyle McClellan and free agent signee Rich Hill. Since then he has been in the top five in the NL in ERA all season, mixing in several solid pitches and having 14 quality starts (6+ innings pitched allowing 3 runs or fewer) in 17 starts. Oh yes, to top it off, he has done all of this after spending all of last season recovering from Tommy John surgery, and is now making a strong case for Rookie of the Year.
As a whole, the Cardinals honestly do have more ups than downs among the players. The problem has become that on any given day, the lineup is unable to hit consistently, the defense breaks down, or (on rare occasions) the bullpen or starting rotation simply gives up too many runs for the bats to overcome. At times it seems that right as one thing comes together, another falls apart. Thankfully it is a long season, and there are still many games to play. Whether or not the Cardinals make a push depends on the surprise players to keep on going and the players dealing with some frustration to rise above their first half issues. Time will tell for these Cardinals, but time could run out quickly if the team is not watching.